Announcements
The University Writing Center is closed for Winter Break until January 18, 2022.
We will operate remotely until January 31, 2022.
We will open for virtual appointments, which will continue to be offered through Zoom, on January 18, 2022, at 9 a.m.
Beginning Tuesday, January 18, 2022, at 9 a.m., the UWC will operate on the same schedule (9 to 9 M-Th, 9-12 F) remotely until 1/31. If you need assistance after 6 pm, Mon.- Thurs. call or text 828-476-8644. Or email writingctr@appstate.edu.
We look forward to seeing you!

Spring 2022 Hours, beginning January 18
Monday through Thursday, 9 a.m. to 9 p.m.
Friday, 9 a.m. to noon
Beginning January 18, 2022, you can schedule an appointment for a writing consultation. Go to TutorTrac, or call 828-476-8644. If you are faculty, staff, or a community member and would like to make an appointment, please fill out this form. We will contact you with instructions for using TutorTrac and to answer any questions you may have.
Watch Our Welcome Video
Congratulations to Our Colleague Madeline Scott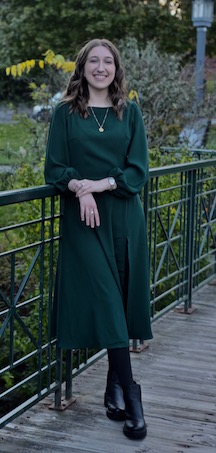 I will be graduating this semester with a Bachelor of Arts in English with a concentration in Professional Writing and a minor in Marketing. I will also be receiving English departmental honors with my degree. After graduation, I will remain at Appalachian State University to complete a Master of Arts in English with a concentration in Rhetoric and Composition as a part of the school's Accelerated Admissions program. After my final graduation in the future, I intend to pursue an editorial career in the book publishing industry.
Virtual Appointments
About the University Writing Center
The University Writing Center is a free resource available to all Appalachian State University students and faculty as well as members of the Boone community. Our consultants are experienced writers and attentive readers who will work with you one-on-one to assist with any aspect of the writing process.
The UWC is a collaborative, supportive, and non-evaluative environment intended to help you with your writing in a way that will foster confidence and competence. Consultants can provide assistance with writing at all stages and in any subject matter.