Announcements
Watch Our Welcome Video
The University Writing Center is open for in-person and virtual appointments, which will continue to be offered through Zoom.

We look forward to seeing you!

Fall 2021 Hours
Monday through Thursday, 9 a.m. to 9 p.m.
Friday, 9 a.m. to noon
To schedule an appointment for a writing consultation, go to TutorTrac, or call 828-262-3144. If you are faculty, staff, or a community member and would like to make an appointment, please fill out this form. We will contact you with instructions for using TutorTrac and to answer any questions you may have.
Congratulations to Our Colleagues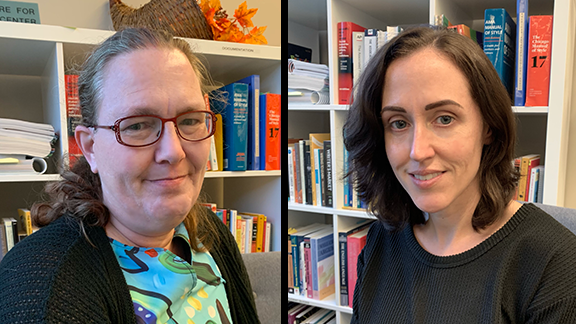 Congratulations to Faculty Consultant Catherine Talley (left) and Program Assistant Michelle Kizer (right). They were named by students as two of the "most helpful" faculty and staff.
Each year, the Office of Student Success produces and distributes a poster listing the names of the most helpful faculty and staff on campus. This list is derived from student responses to the New Mountaineer Form, which is given in fall semester to Appalachian's newest first-year and transfer students.
We are so proud that these two indispensable colleagues have been recognized for their commitment to student success.
Virtual Appointments
About the University Writing Center
The University Writing Center is a free resource available to all Appalachian State University students and faculty as well as members of the Boone community. Our consultants are experienced writers and attentive readers who will work with you one-on-one to assist with any aspect of the writing process.
The UWC is a collaborative, supportive, and non-evaluative environment intended to help you with your writing in a way that will foster confidence and competence. Consultants can provide assistance with writing at all stages and in any subject matter.