We take three appointments per hour, but walk-ins are also welcome. We have between four and eight consultants available each hour to meet with clients.
To schedule an appointment with the Writing Center, call (828) 476-8644, or use WCOnline to schedule an appointment. If you'd like to work with a specific consultant, please note that on your appointment form.
To register and make an appointment, click here.
Note: High school students must contact Writing Center Assistant Director Julie Karaus (karausje@appstate.edu) before scheduling an appointment.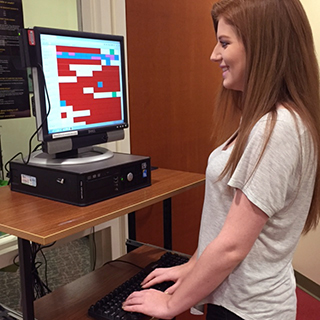 Online Appointments
For information about scheduling an online appointment, click here.
Missed Appointments
If you are unable to make your appointment, please call the Writing Center at (828) 476-8644 and let us know. An appointment is considered a no call/no show at 10 minutes after the hour, and you will not be permitted to have another session that day; you may have another session on any other day. Three missed appointments in a semester will result in a suspension of UWC appointment privileges for the remainder of that semester. You will still be allowed to have sessions as a walk-in client.
Closures
When the university closes or cancels classes, the writing center closes, too.