The University Writing Center offers online consulting services for all clients. Our services are available through Zoom Web Conferencing. Online sessions must be scheduled at least two hours in advance.
Once you have requested an appointment through WCOnline, you will receive a confirmation email. Your appointment is not finalized until you receive that email. Please note that we can only do two online sessions per hour, so if you request an online session when two are already scheduled, you will be asked to reschedule.
Scheduling an Online Appointment
Log in.
Schedule an appointment by clicking on a white space on the schedule.
An appointment form will open.
Be sure to set the appropriate time for your appointment so it begins on the hour.

Ex. 3:00=correct. 3:05=incorrect

For the question "Meet Online?" be sure to select "Yes - Schedule Online Appointment".
Follow the directions on the form and complete all questions.
Wait to receive your confirmation email from writingctr@appstate.edu.
This email confirms the appointment.
At the Time of Your Appointment
If you haven't already downloaded Zoom, this link will download the application to your device.
When downloaded, log in to your email.
Locate the confirmation email from writingctr@appstate.edu
In the email,click on the link right after "The hyperlink below will take you to your online session."
A pop up window will appear. Click "Join Audio Conference by Computer."
At the bottom of your screen, you will see an icon to share your screen with your consultant.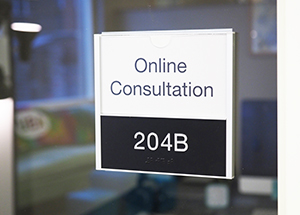 System Requirements
An online appointment through WCOnline.
Access to a computer with high-speed internet.
A computer with audio capabilities (speaker and microphone) and a phone backup.
Your paper, notes, or other writing you wish to work on in an electronic file such as .doc, .docx, .gdoc, .pdf, or .txt.
If you have any questions regarding our online services, please call us at 828-262-3144 or email writingctr@appstate.edu.