Faculty FAQs
Can I require my class to come to the University Writing Center (UWC) for a particular assignment?

The UWC strongly discourages instructors from requiring students and/or entire classes to visit the center. Individuals who are required to come in often bring a negative attitude to the session and will see it as punishment. When classes are required to come, the majority of the students will wait until the last day or two to make appointments or walk in, and the UWC is not staffed to handle this influx of students. We suggest including information about the UWC on your syllabus and recommending the UWC to your students as a self-elected aid. Additionally, a Writing Center consultant can visit your class to introduce your students to our services, philosophies, and staff. Call 262-3144 to schedule a visit; we ask that all classroom visits be scheduled at least 48 hours in advance.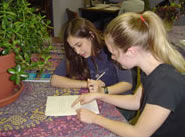 Does the UWC offer specialized assistance to English Language Learners (ELLs)?

Our center serves a large number of non-native English writers each semester. Click here to read more about our approach to and resources for the special needs of these clients.


Will I get feedback from the University Writing Center about my students who visit?

Consultants will complete an electronic form for each session that identifies the student, class, instructor, and what was addressed during the session. In accordance with FERPA and the UWC's mission, this report is not sent to instructors; however, students always have the option to request a printed copy of the report to share with their instructors. A student's University Writing Center file is confidential, and students always have the right to deny information about the session to outside parties.
Students may request a proof of attendance form to give to instructors, but consultants will not sign or fill out any form created by instructors and sent with students.
What can I do to make my students' sessions most productive?
It is always useful for the UWC to have copies of class assignments on file. If you provide copies of your writing assignments to us at any time during the semester, we will keep them on file to access when your students come to the UWC. Click here to find out how to submit your assignments.

Encourage your students to visit the UWC, but do not require them to visit. Some instructors offer extra credit for visting the UWC.

Please indicate on research assignments which documentation format you prefer students to use or clear guidelines for a customized format. Please be explicit about specifics such as whether you prefer footnotes to parenthetical references. We will consult the most current edition of any style guide unless otherwise specified on the assignment or syllabus.
Can consultants help me use MS Word and other word processing software?

UWC consultants are not trained to handle software questions or teach you how to use common software. A consultant will usually be happy to assist you with basic questions if he/she feels comfortable doing so, but you should contact ASU's Information Technology Services for computer and software assistance.
Find out what we do in a typical session with your student